SNEDDENS - New Zealand's No.1 International Freight & Shipping Specialist
International Freight & Shipping Services
At Sneddens, we understand how important it is to deliver products swiftly and safely. Delays in transporting your products could spell disaster for your business. It could trigger a chain of events that might endanger your bottom line. In addition, you want your products to arrive at their destination undamaged and with their value preserved. That is why we offer our customers the most advanced solutions for freight forwarding NZ wide.
Sneddens is one of NZ's leading international freight forwarders. We pride ourselves on having the mechanisms in place to serve a vast array of industries, including food, textile, electronics, engineering and automotive. We deliver all kinds of freight, from scrap metal and scrap tyres, to fireworks, batteries, and excess baggage. We can even assist with caravan and motorhome importing along with car importing and exporting. Whenever you need to transport freight, we will be there to assist you. Find out how we can help you with efficient, cost-effective freight forwarding NZ wide.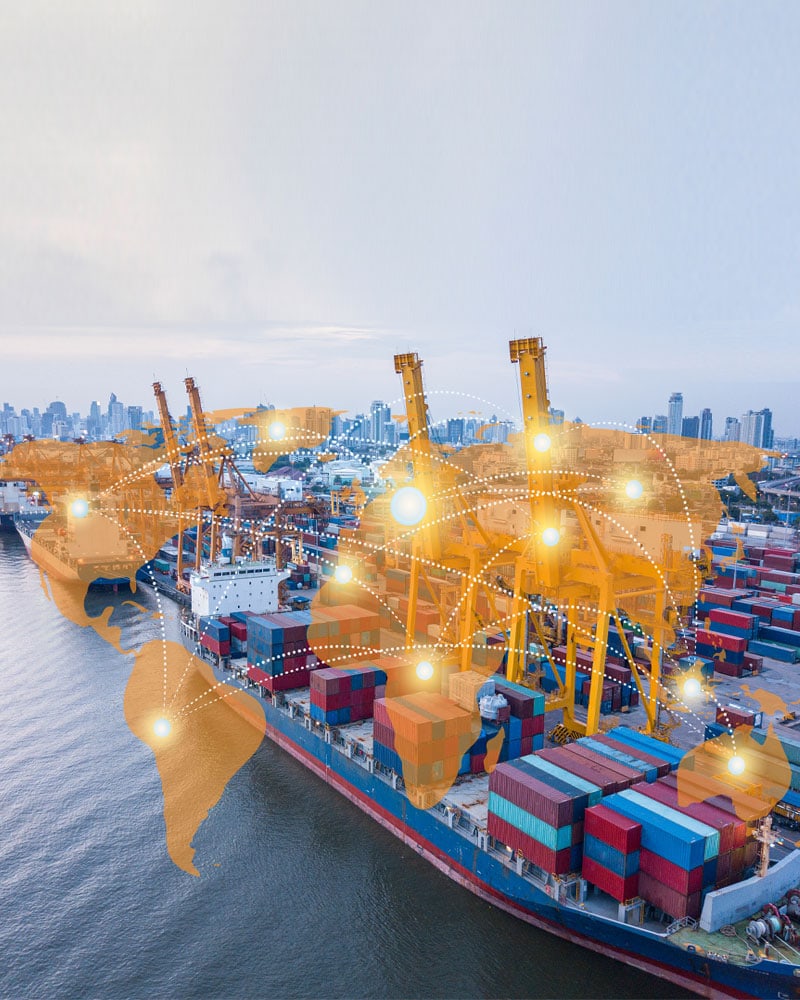 We provide our customers with professional and innovative freight forwarding NZ wide. We offer a door-to-door pickup and delivery service for all import and export cargo destinations.
As a world-class freight forwarder that looks out for its customers, we can advise you on the various considerations when importing or exporting goods to and from New Zealand. The NZ government has a long list of restrictions that you should know about before going forward with your business transaction. Your export and import may be inspected by Customs at the Port of departure or destination. Our customs broker services ensure a smooth process.
International Freight Services
Where We Deliver Cargo To
We are a member of four major global freight partnerships. These global networks are made up of independent freight forwarders and specialists with logistical facilities in over 100 cities.
We deliver cargo to all major continents and countries, including:
Our freight forwarding NZ services include:
China Importing and Exporting
China and India are two of New Zealand's largest producers of imported products. New Zealand's largest trading partner is now China. Since 2008 when the free trade agreement was signed, two-way trade (exports and imports of goods and services) has more than tripled from $9 billion to over $32 billion.
Fully equipped to meet the demands of the freight forwarding industry, Sneddens is now playing a crucial role in the continuity and development of this trade lane for China international shipping. Our regular import and export movements to China include less than container loads (LCL) and full container loads (FCL).
If you're looking to import from China, look no further than Sneddens. With a long list of agents serving each port in China, we cater to all modes of inland travel, including barge, truck, and rail.
India Importing and Exporting
India is rapidly becoming a global economic giant. India has one of the largest and fastest-growing economies in the world. Due to its rapid population growth and economic development, India is an attractive market for New Zealand exports.
In order to benefit from this growing trade relationship, you will need the expertise of a freight forwarder like Sneddens. Wether you're looking to export to India or import from India, we have a cost-effective network of transporters that allows trade with India to be smooth and rewarding.
Our freight rates are the best in the market, and together with our experienced partners, we offer professional and innovative sea freight and air freight services. Our services reach and actively engage the market as far inland in Asia as Pakistan.
Please call Vineet at 0800 76 33 33 for all Indian and Pakistan queries.
Quality Control Services are Provided to Protect your Investment
The main concern when importing goods is that they are shipped in good condition, at the correct quantity, are packaged properly, and make it onto the truck safely. We make sure that happens.
Sneddens has agents on the ground in China and India that can inspect your goods before they depart. Any items requiring compliance testing to meet NZ standards and custom requirements are checked before payment is released.
Our agents quality control all types of products. Whenever we need special testing, such as steel grade testing and food chemical testing, we bring in a third-party inspection service with lab testing and onsite capabilities.
Our 5 Steps To Safeguard Your Merchandise
Find and Verify
Find and verify a quality factory and negotiate pricing.
Quality Protocol
Develop a quality protocol with our clients -
a checklist of what to check for.
Factory Inspections
Conduct factory inspections. With the help of pictures and videos, we communicate with the client during the inspection, so that the shipment can be approved and the final payment made to the factory.
Container Monitor
We will also monitor container or truck loading at the factory to ensure ownership transfer occurs.
Testing
Our team can obtain third party testing if needed.
The fastest, safest and most cost-effective way to move freight
Sneddens is no ordinary freight forwarder; we are reliable freighting partners that have your best interest at heart.

Always Working For You
Don't wait another day. Our team works around the clock to get freight moving; such is our dedication to our clients.

No Hidden Costs
Our quotes are fully transparent and accurate; no hidden costs or nasty surprises.

More Options
We are part of four major global freight alliances, so our clients have more options and agents working to move their freight.

Importing Is Safer
We have quality control agents on the ground to protect importers' investments.

Most Efficient Shipping Strategies
By leveraging the latest technology and industry-specific expertise, we create the most efficient shipping strategies.

Accredited Storage & Distribution Facilities
We offer 3rd party logistics services at our accredited Auckland Airport Warehouse.

Customs Brokerage At Its Best
Our customs brokers are highly experienced and accredited with NZ customers experience.

100 Cities Across All Continents
Our cargo specialists are experienced in all industries and ship to and from over 50 countries.
Sneddens is a member of four major global freight partnerships