SNEDDENS - New Zealand's No.1 International Freight & Shipping Specialist
Fast & Reliable Air Cargo
A reputable air freight carrier is an absolute necessity when you need air cargo delivered immediately. Trust New Zealand's #1 International Freight and Shipping Specialist to deliver your most time-sensitive shipments and air cargo on time and on budget.
With over 50 years of freight forwarder experience, we have perfected our trade to offer our clients comprehensive and cost-effective air freight solutions.
Member of four major global freight networks so you have all the best options
Freight to over 100 cities
Freighting experience across all industries
Door-to-door pickups and deliveries
Cargo insurance available
With our air freight services, you can move almost anything, anywhere in the world. We can handle any size shipment or urgent delivery. Save time and money with the most efficient shipping options to any location.
Dedicated Customs Brokers
Using our team of dedicated Customs Brokers, we can make sure that all international shipments are processed fast to minimise any delivery delays for you or your customers.
We work with all major airlines so you can choose the most cost-effective air freight rates and transit times to suit your needs. At competitive prices, we offer direct international air services for urgent shipments, as well as consolidation services for less time-critical shipments.
We offer unmatched flexibility. Sneddens have relationships with all major air carriers and our extensive list of international air freight destinations includes North America (United States), India, China, Pakistan, Australia, Europe, Asia, and South America.
For more information call us today on 0800 76 33 33, email info@sneddens.co.nz or click here to book online.
You can count on us to provide you with fully transparent quotes. Our highly experienced team has what it takes to provide accurate costings, so you are not hit with hidden costs on landing.
Do you already have a quote? Are you using another air freight forwarder? Let's review your quotes so that you have a clear understanding of the costs. With our extensive networks and optimized freighting software, we can map out a route to get your freight to its destination as quickly and cost-effectively as possible.
By leveraging the latest technology and industry-specific expertise, we create the most efficient shipping strategies. Request a quote comparison!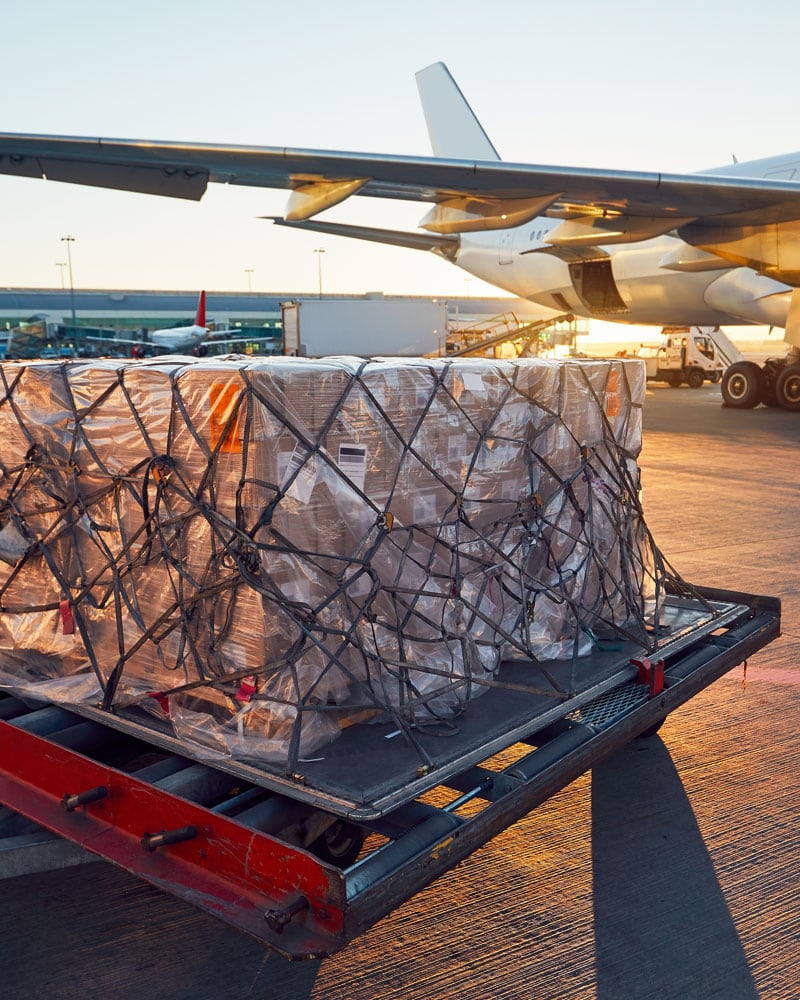 New Zealand Air Freight Import Services
Currently, we offer two types of air freight services for export shipments; Direct Airline and Consolidation. In cases where urgent shipments are required, we provide direct airline services.
For exports and international freight that is still urgent but has a more fluid time frame, we offer a consolidation service. Due to its lower shipping cost, this service is a more economical way to ship overseas. Freight is combined at weekly intervals and we achieve price concessions by combining many clients' shipments and buying at higher weight levels.
For seamless exports, our customs brokers will take care of all export clearance matters.
Our membership in four major global freight partnerships allows us to provide Door-to-Door shipping services from most international destinations to New Zealand. In the case of smaller import shipments (less than 45 kilos), our clients can choose the option of using our international courier service.
Sneddens services all New Zealand destinations and can electronically clear your goods at all New Zealand customs approved airports. For more information on this service, please see International Courier.
The fastest, safest and most cost-effective way to move freight

Always Working For You
Don't wait another day. Our team works around the clock to get freight moving; such is our dedication to our clients.

No Hidden Costs
Our quotes are fully transparent and accurate; no hidden costs or nasty surprises.

More Options
We are part of four major global freight alliances, so our clients have more options and agents working to move their freight.

Importing Is Safer
We have quality control agents on the ground to protect importers' investments.

Most Efficient Shipping Strategies
By leveraging the latest technology and industry-specific expertise, we create the most efficient shipping strategies.

Accredited Storage & Distribution Facilities
We offer 3rd party logistics services at our accredited Auckland Airport Warehouse.

Customs Brokerage At Its Best
Our customs brokers are highly experienced and accredited with NZ customers experience.

100 Cities Across All Continents
Our cargo specialists are experienced in all industries and ship to and from over 50 countries